Podcasts have been around since at least 2004. But unlike text-based news and blogs, which have gone through waves of centralization and disruption thanks to Facebook and Google, the podcast industry has remained stubbornly decentralized. There are dozens of popular podcast players, and no single gatekeeper in the industry. Despite many attempts, there has never been a "Netflix of podcasts."

That may change soon: Spotify bought Gimlet Media, a premium podcast studio, and Anchor, a podcast hosting platform, for $340 million earlier this month. That's a lot of money for an industry that was sized at just $314 million in 2017.
Spotify CEO Daniel Ek explicitly referenced Netflix's strategy as part of their motivation, saying that Spotify will spend hundreds of millions of dollars acquiring podcasts. When Netflix moved into streaming, they invested billions of dollars into original programming, helping usher in the "New Golden Age of Television"—a sharp increase in the number and quality of new scripted shows—alongside HBO, Hulu, and Amazon.
Spotify's acquisition spree won't change the podcast industry on its own. But it's another signal that we're on the cusp of a similar change for podcasting. Let's call it the beginning of the Golden Age of Podcasts—a marked increase in the amount and quality of original audio programming. To understand the Golden Age, let's look at what's happening, why it's happening now, and what's coming next.
Since Apple included the Apple Podcasts app on every iPhone back in 2014, Edison Research's Share of Ear report has shown slow but steady growth. But 2018 looks like it was an exceptional year.
CBS News conducted a survey of US listeners in January 2019 showing an increase of people listening to podcasts daily or a few times a week from 15% to 23%. That represents 20 million more frequent podcast listeners in the US alone—a 50% relative jump over the previous year.

Such a huge jump seemed unusual, so Chartable commissioned a survey to double-check. The results we got confirmed that 2018 was a big year for podcasts: [1]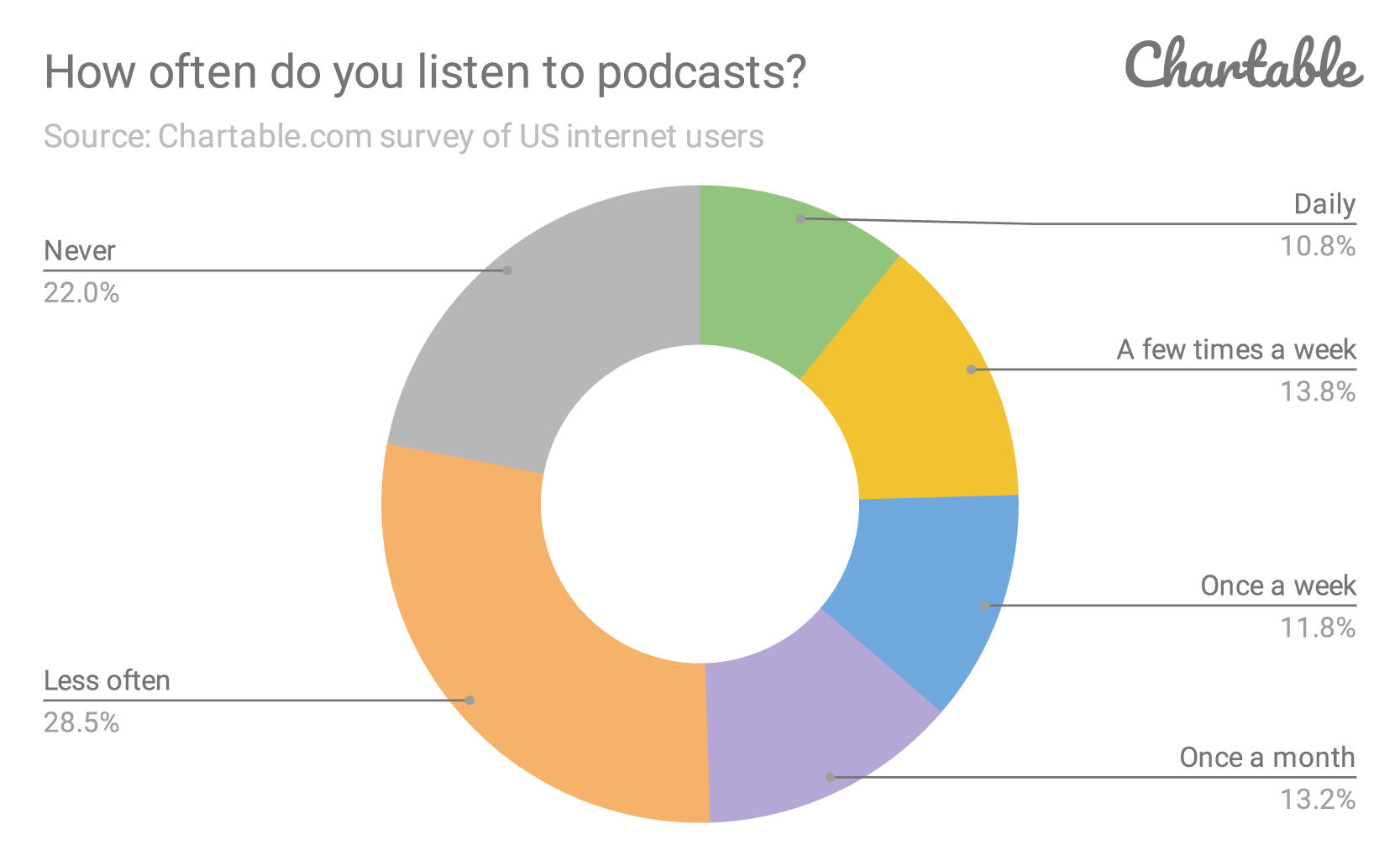 The survey confirmed that 23-25% of US adults listen to podcasts daily or a few times a week. Using the latest US Census data, that represents an audience of around 60 million people listening a few times a week or more, and 91 million people listening at least once a week.

Podcast listeners make time for a lot of podcasts during their week: The Share of Ear report shows that the average listener consumes seven podcast episodes a week, which is also increasing over time.

Multiply more listeners by more episodes per listener, and you get a massive increase in the number of downloads and the amount of attention paid to podcasts overall.
All those new listeners are listening to a record number of new podcasts.

In 2018, an average of 575 podcasts were started every day—that's about one podcast every three minutes. Chartable now tracks over 670,000 podcasts in the Apple Podcasts directory, and over 210,000 of those published their first episode in 2018. [2]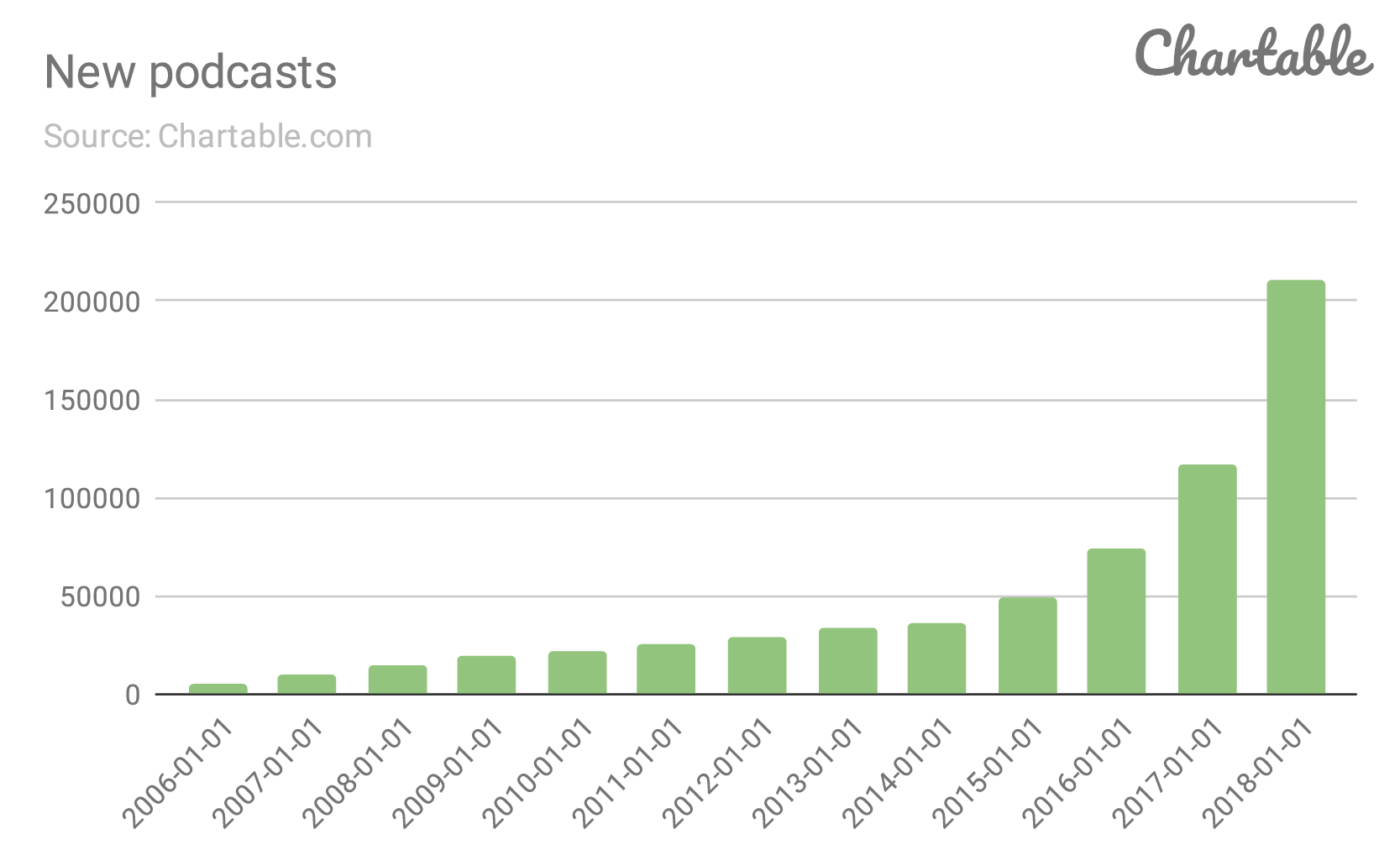 While that might seem like a lot of podcasts—surely everything has been done?—Justin Jackson pointed out on Chartable Radio that there are over 35 million YouTube channels. There's still plenty of room for new entrants in the audio world.

So many people are creating podcasts for the same reason journalists and others are starting newsletters: podcasts are a great way to connect directly to an audience. There's no single gatekeeper, or gatekeeping algorithm, that will prevent you from reaching your audience—if someone subscribes to your podcast, they'll see all your new episodes. That's why there are many more shows from diverse and marginalized creators than you'd find on broadcast radio.

Anchor, which creates easy-to-use podcasting tools, certainly accelerated this trend. As we wrote last year, Anchor hosts over a third of new podcasts, because they make starting a new podcast much easier. They've brought a whole new set of creators to the medium that would otherwise have found it too challenging to get started—like what Blogger and Wordpress did for blogging.

There have also been many more professionally-produced podcasts in recent years. Many early shows were simply repackaged radio programs, but since Serial launched in 2014, startups, independent producers, and even big media companies have been finding success with shows designed from the start as podcasts. [3]
Just three years ago, there were no daily news podcasts that weren't borrowed from radio.

USA Today launched the first daily news podcast in the US in October of 2016. But the genre really took off when The New York Times launched The Daily, the most popular daily podcast, on February 1st, 2017. Since then, many media companies have started daily podcasts of their own, like Slate, The Washington Post, and The Economist. [4]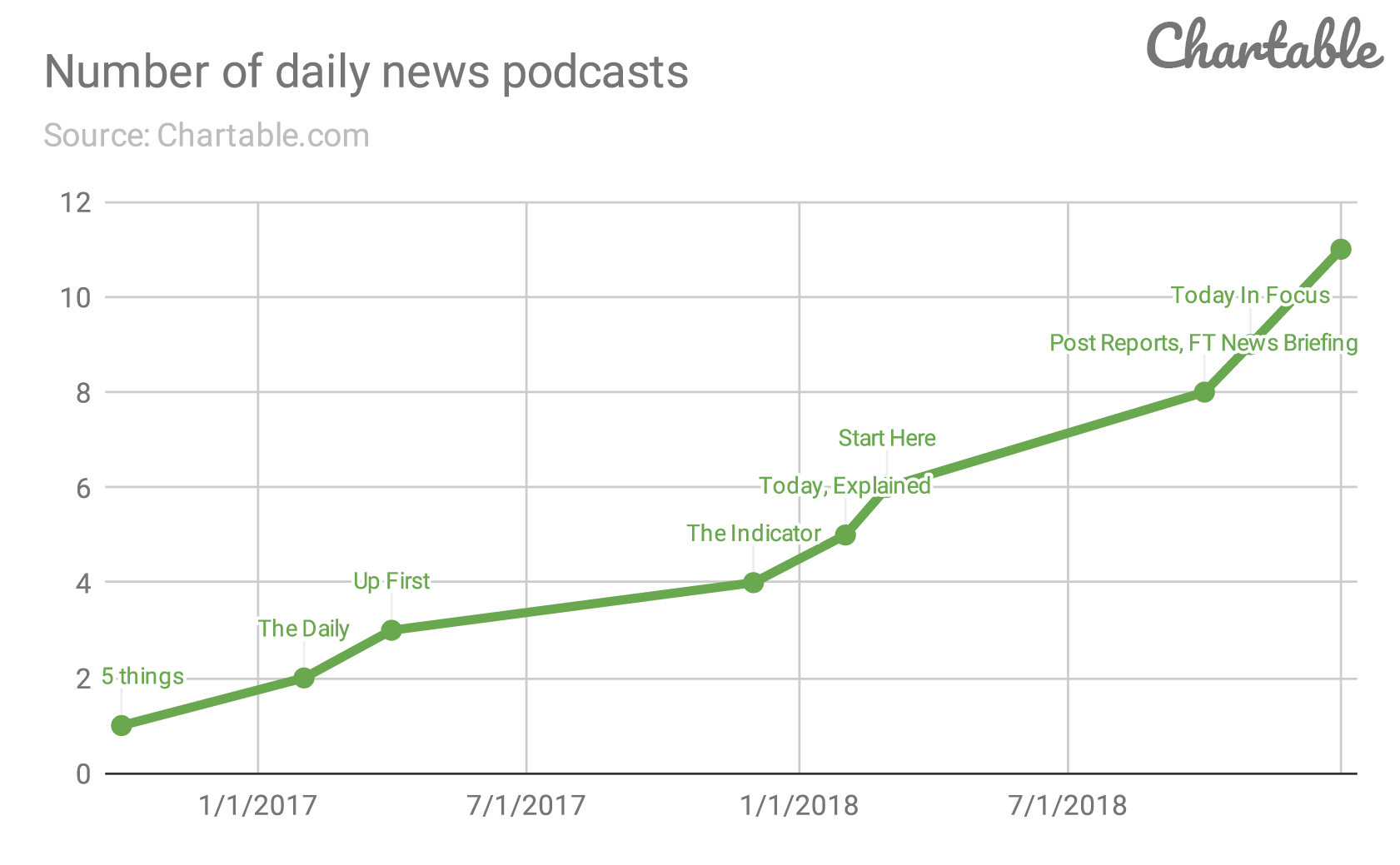 Chartable now counts 11 general-audience daily shows, most of which were launched in the last year. These shows, like Serial, were meant to be podcasts from the outset, meaning they weren't tied to the rhythms or rules of broadcast radio.

Besides the obvious benefit to publishers—five episodes per week means more ad inventory—daily podcasts offer listeners a consistent way to integrate podcasts into their routines.

Daily news podcasts help turn occasional listeners into more frequent listeners. While "at home" is the most popular place to listen to podcasts, many people listen on their commute, and daily podcasts offer a predictable way to keep up with the news and build a habit of podcast listening. And once someone starts listening to podcasts, they tend to listen to even more podcasts over time.
Some sources claim that our average attention span is down to 8 seconds. People view Facebook Watch videos for an average of 23 seconds. A "good" YouTube consumption rate is somewhere around 50%.

But podcasts are different: Edison Research data shows that 87% of podcast listeners listen to most or all of each podcast they listen to. This is despite the fact that many podcasts can run for hours. No wonder that podcasts have been called "the slow food movement of the media world."

Listeners are binging on podcasts the same way they binge a new Netflix season. That's incredibly valuable to a company like Spotify that depends on building and maintaining its users' attention.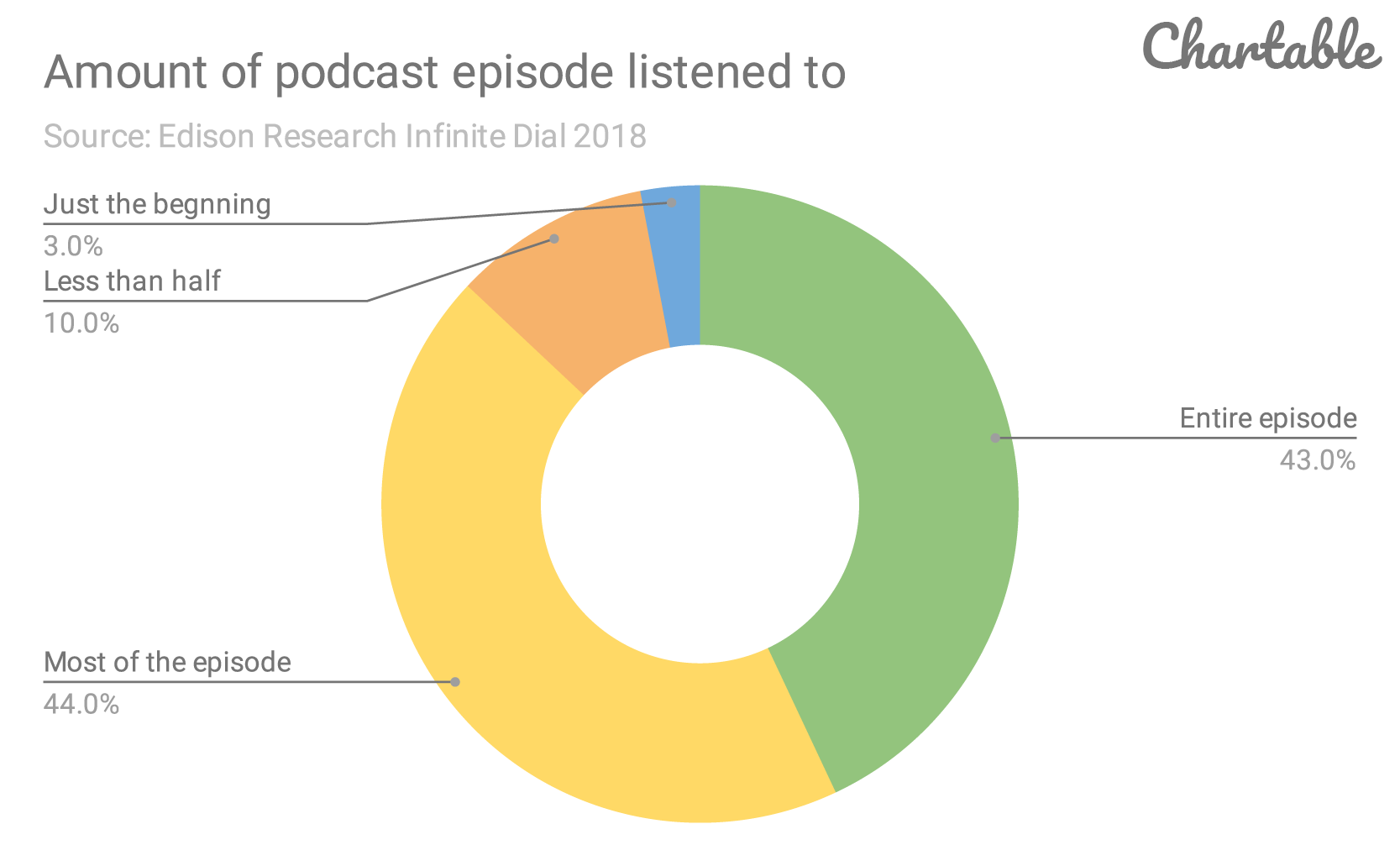 Why is there such a boom now, given that podcasts have been around for 15 years? One could ask the same question about streaming video's growth in the 2010s—and as the head of Amazon Studios said in 2017: "Streaming is the culmination of a change that has been coming for decades".
Similarly, the podcast boom has deep roots—as James Cridland has written, "podcasting has been taken seriously for a long, long time by anyone that cares about well-produced audio." There are several broad trends converging.
Apple is so integral to the podcast ecosystem that up to two-thirds of all podcast listening globally happens on iPhones and other Apple devices—despite the fact that Android has a greater market share, especially outside of the US.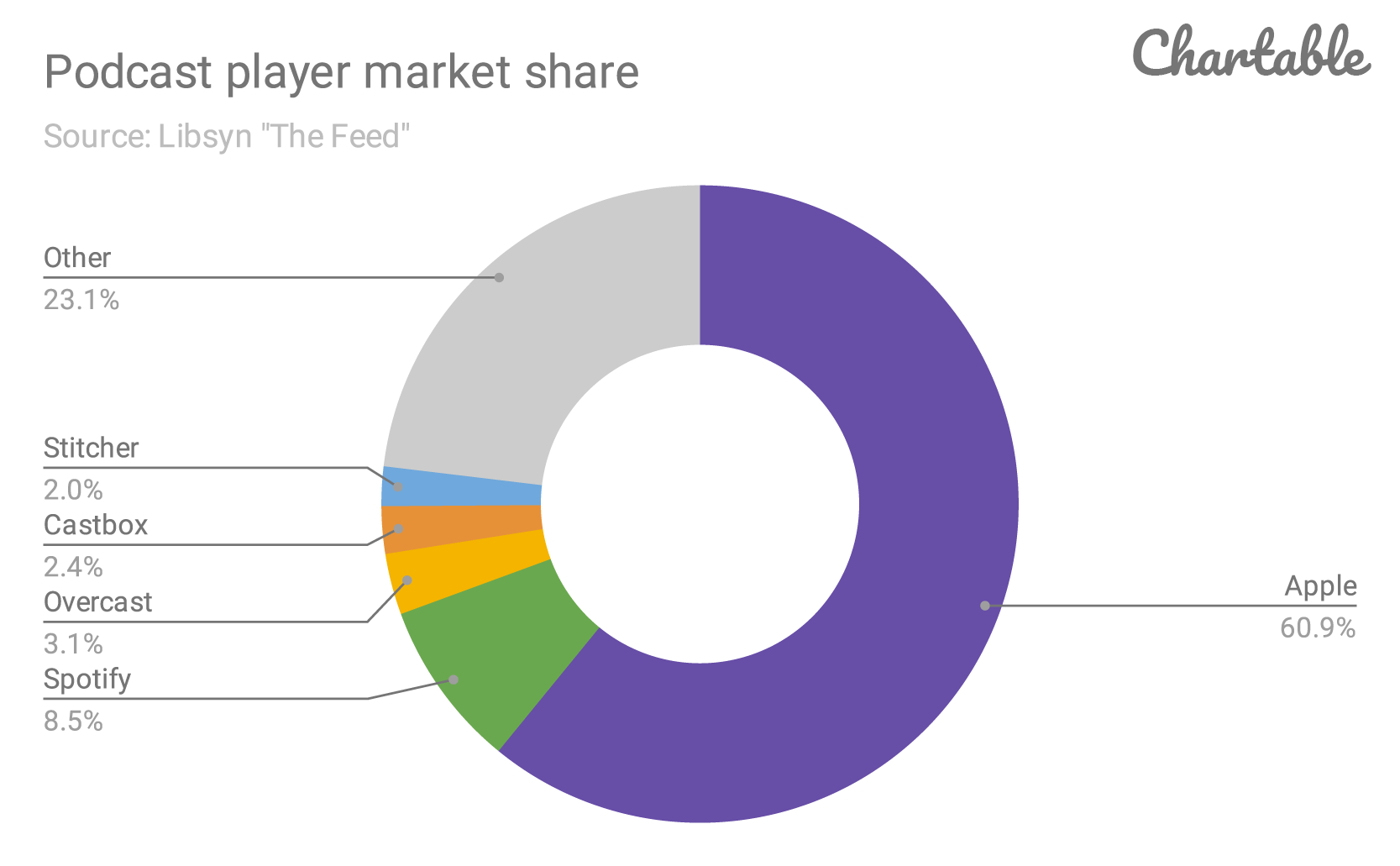 Spotify and Google both increased their investment in podcasting in 2018, reducing Apple's dominance and bringing more listeners to podcasts for the first time.

Google launched a native Google Podcasts app for Android, after multiple attempts at integrating podcasts with other services like Google Play. Although Google's new app is only responsible for about 1% of downloads according to Libsyn, it has the advantage of working on any Android device without requiring an app installation, which means the hundreds of millions of Android users out there now have a "universal link" for podcast listening.

Spotify has allowed podcast listening in their desktop and mobile for over two years, but they significantly increased the prominence of podcasts in 2018 and opened the platform to all podcasters. Their increased emphasis on podcasts shows in download stats: Spotify's percentage of downloads doubled last year, from 4.4% in December 2017 to 8.5% in December 2018 [5].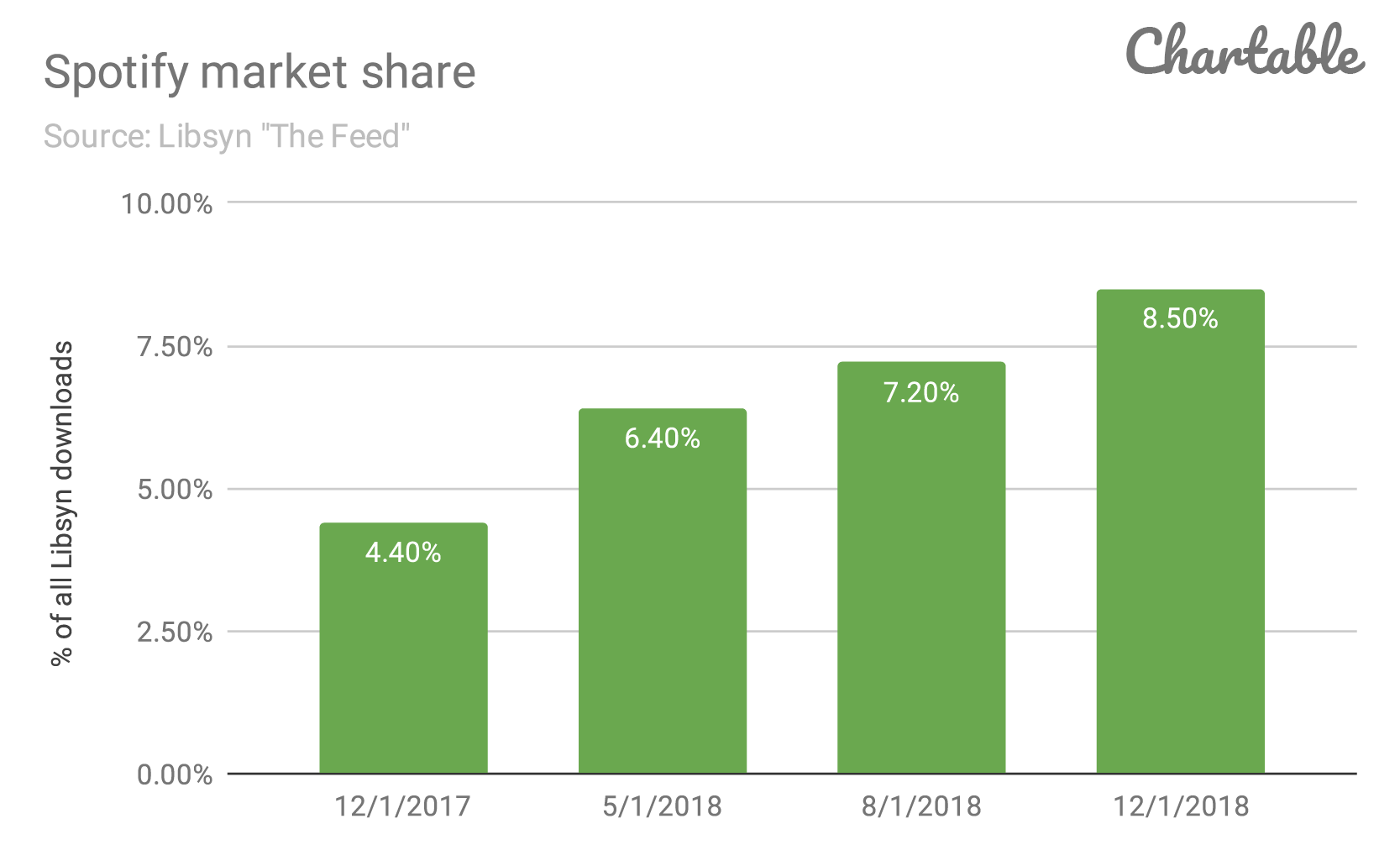 Many of these listeners are new to podcasts. In other words, Spotify didn't "steal" listeners who were already listening to podcasts on Apple Podcasts, they created new listeners by exposing them to podcasts for the first time.
Smartphone penetration in the US started peaking just a few years ago. Because smartphones are by far the most popular devices for listening to podcasts, near-complete adoption of smartphones was a prerequisite for the podcast boom. Streaming media make up the majority of mobile data usage—and that share is still growing. (source)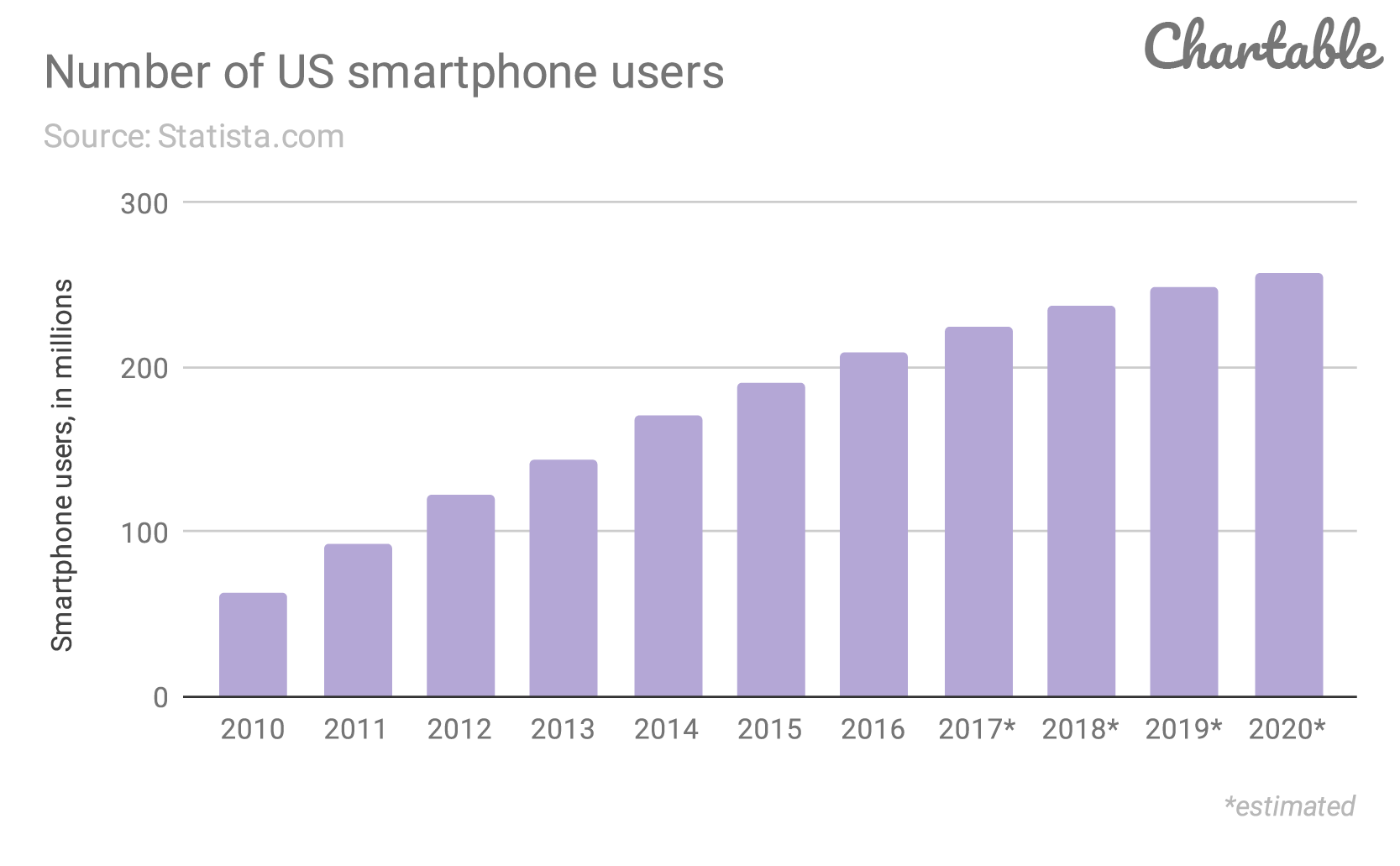 A quarter of all listeners do the majority of their podcast listening in their car. As more cars adopt Apple's CarPlay and Android Auto, people are choosing to listen to podcasts or streaming services like Spotify or Apple Music rather than AM/FM radio. (source)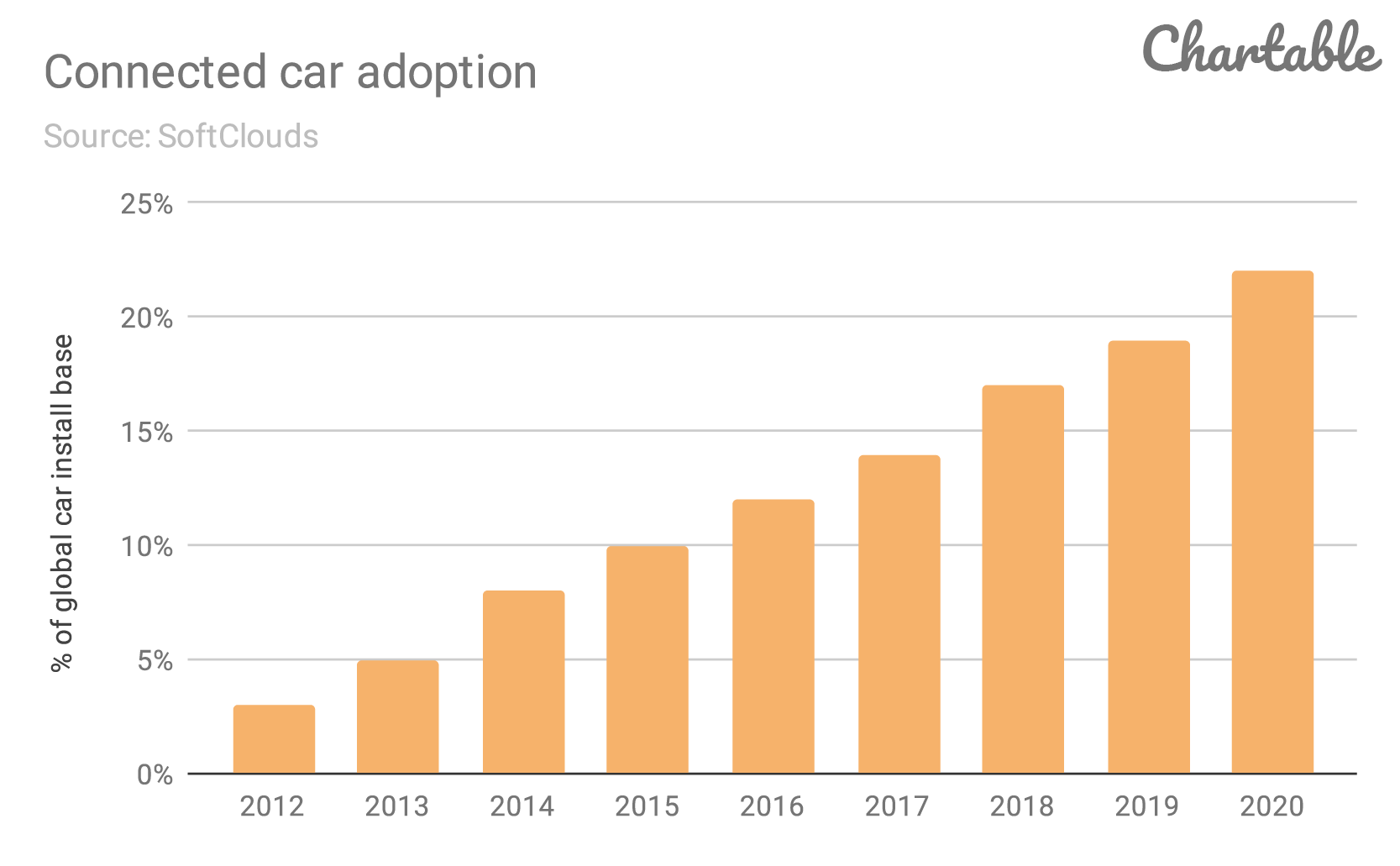 It's not just podcasts that are booming—smartphones have brought many more listening options to consumers, from streaming music services (Apple Music, Spotify), to meditation apps (Calm, Headspace) to audiobooks (Audible, Libby). Calm alone has over 40 million downloads, and 18% of US adults have listened to an audiobook in the last year, up from 11% in 2011. (source)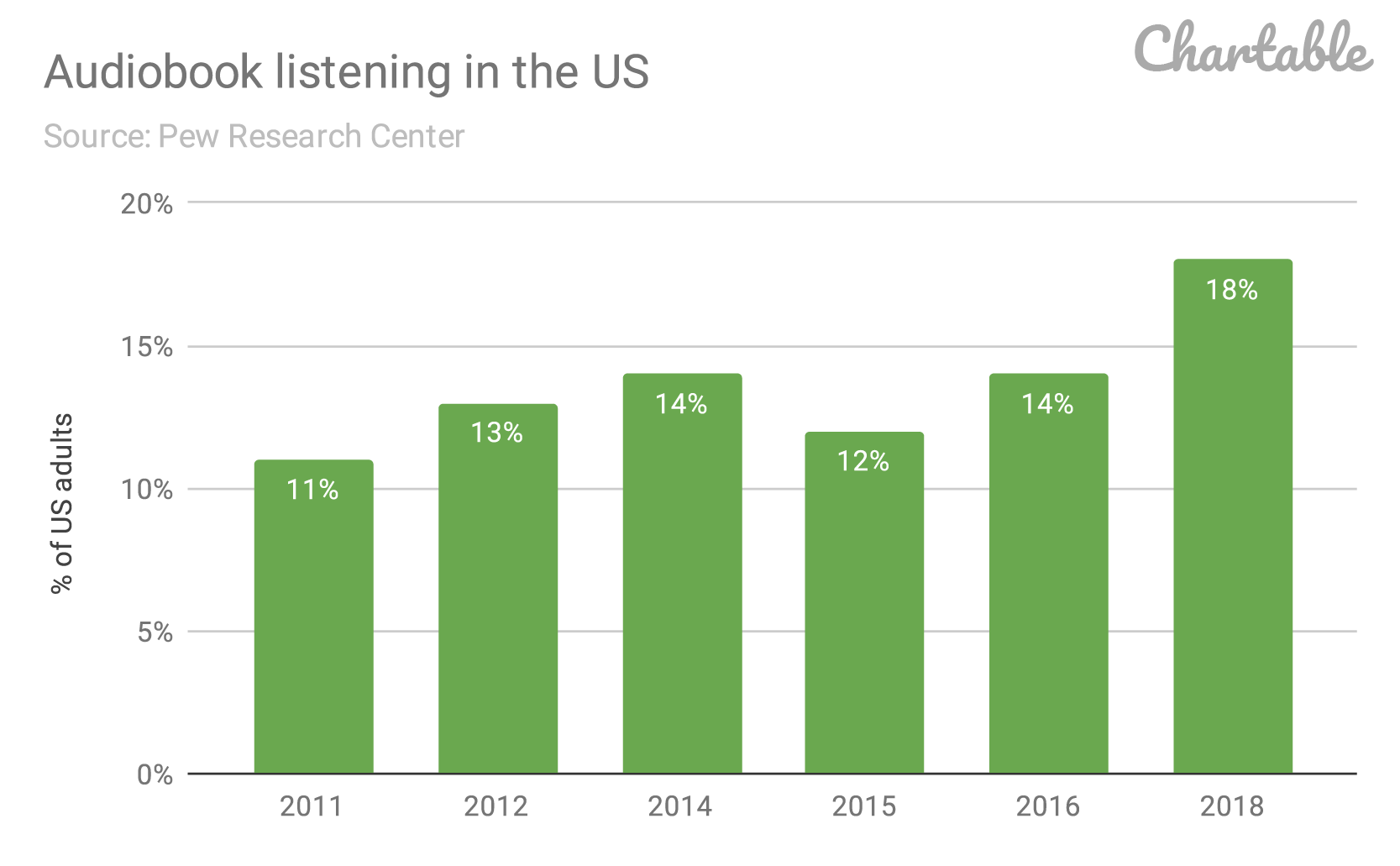 Alexa, Google Assistant, and HomePod have been adopted by consumers more quickly than almost any other consumer platform in history. These speakers still represent a small percentage of overall podcast listening—and only 17% of smart speaker owners use them to listen to podcasts— but as more consumers get a speaker in their home and build a habit of using it, expect to see those numbers climb. (source)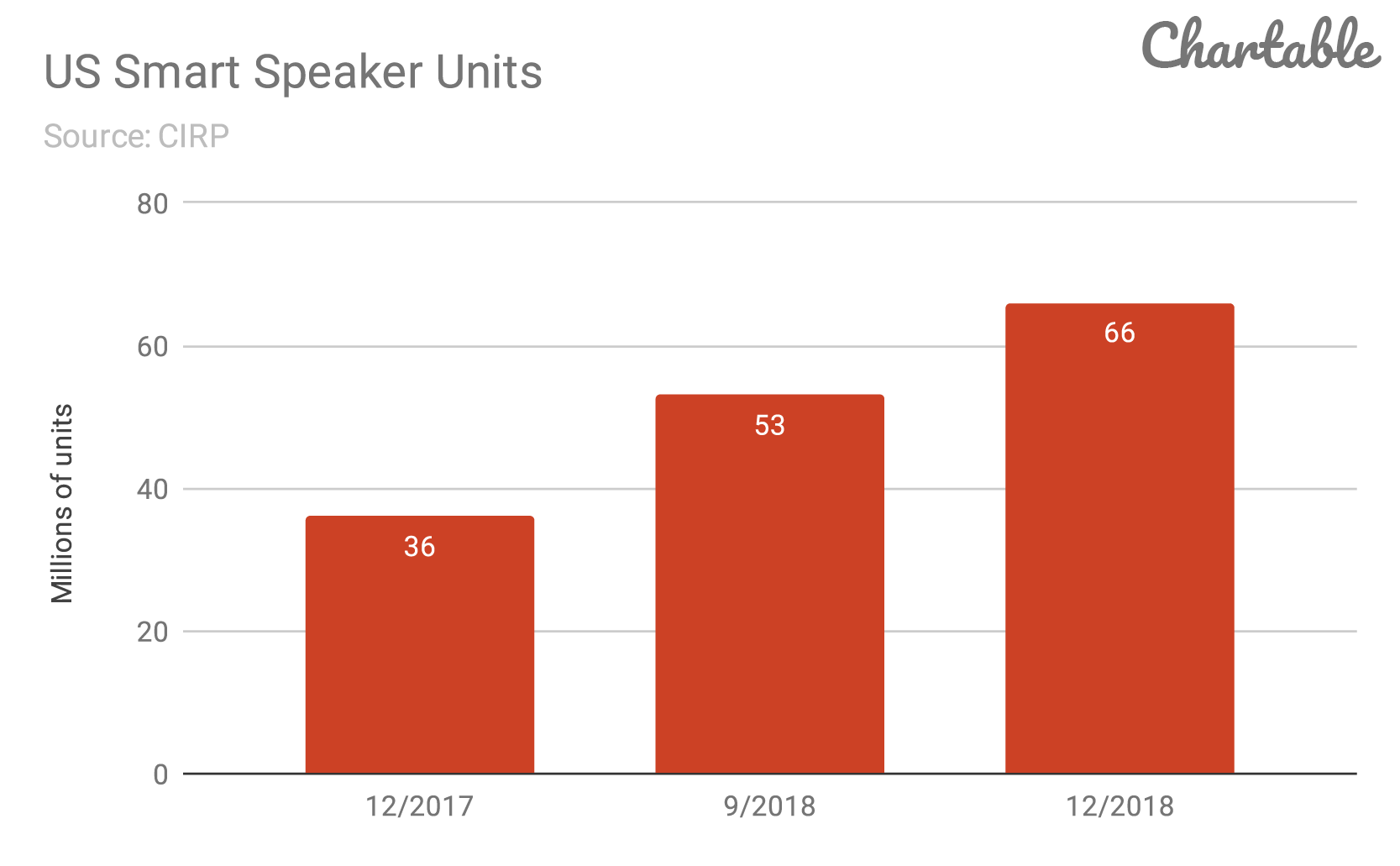 The Golden Age of Podcasts is happening now because of more listeners, more content, more binge-worthy and daily content plus the convergence of tech adoption curves. So what can we expect in the near future?
For listeners, there will be more amazing shows of all kinds. More media companies will invest in creating quality long-form audio. We'll see many more high-quality shows like the best podcasts of 2018 that are binge-worthy.


Podcasts will continue to grow their share of overall attention. The more people listen to podcasts, the more podcasts they listen to. And quality audio is a great way to learn something new or entertain yourself while reducing screen time.


For creators, new models for funding the production for a show will emerge, much as Netflix has changed the TV production model. And we'll see more ways for creators to monetize their shows, in addition to than the current methods (ads, live shows, subscriptions). After all, podcasts are a $7 billion industry in China—surely we haven't explored all paths towards monetization in the US.


More transparency. The accepted measurement in the podcast industry is the download, which doesn't say much about whether anyone's actually listening. I previously wrote about fraud on the podcast charts—I expect download fraud to become more common. As the industry grows, advertisers and other funders will expect more precise and transparent measurement of audience engagement.


Spotify will create more exclusive content to aggregate and retain listeners. This is a strategic move straight out of Ben Thompson's Aggregation Theory. When users listen to podcasts, Spotify doesn't have to pay out the major labels. And Spotify can also leverage their listener base to aggregate advertiser demand for podcast ad space.


Despite Spotify's strong moves, Apple will maintain a strong position. Because the iPhone is such a powerful platform and the Apple Podcasts app is installed by default, Apple will always command the attention of some (large) percentage of listeners. Even if Spotify and Gimlet create exceptional exclusive content, there will always be a big pool of free, high-quality shows—many podcasts are the product of public media (e.g. NPR, CBC, BBC), and many creators won't want to lose the direct relationship with their listeners that the open podcast ecosystem provides.
We founded Chartable last year with the goal of helping podcasters understand and grow their audiences, and I couldn't be more excited to be working in this creative industry.
Our current Golden Age of Television started eighty years after the invention of TV, and a decade after the invention of the Web. And despite some dire warnings, the trend in more and better TV programming has yet to slow. In comparison, the Golden Age of Podcasts only took 15 years since the invention of the medium, and it's just getting started.
If you liked this post, please consider sharing it on: Facebook · Twitter · LinkedIn · Via email
Or join the discussion on Hacker News