Today, we're proud to launch Chartable for Brands, adding two important features to Chartable's podcast analytics and attribution stack:
The first-ever firmographic enrichment for podcasts—find out exactly which companies are listening to your branded podcast, powered by Clearbit
Brand Impact, the easiest way to measure the ROI of branded content
But don't just take our word for it:
"Chartable For Brands" is a big step forward in allowing companies to measure the impact of their podcast on tangible business results. Firmographic data is an industry first and, in addition to Chartable's suite of measurement and attribution tools, will help any company prove what many of us already know - when done well, branded podcasts are exceptionally effective at delivering marketing results.
Here's why we're so excited to release Chartable for Brands to support the growing number of branded podcasts:
Branded content: A growing trend
If you're familiar with podcasting, you probably know there were a ton of new podcasts last year. In 2020, we saw nearly 2 podcasts created every minute, all year long. 2021 is already on track to beat that record.
When most people think of "podcasts", they usually think of something like a produced documentary series like Serial, or an interview-style show like How I Built This.
However, businesses of all sizes and types also produce podcasts to reach their customers directly. Recent success stories include shows like Inside Trader Joe's, which was the #1 Food podcast in the US on Apple Podcasts; Choiceology from Charles Schwab, which has reached the Top 50 overall; and Duolingo's Spanish podcast, which consistently ranks in Chartable's global top 50 and is popular in dozens of countries worldwide.

Popular branded podcasts
Besides these recent shows, business podcasts go back to at least 2006—nearly the start of podcasting as an official part of the Apple universe—with the Bungie podcast from the video game studio behind Halo. Though it stopped publishing in 2017, you can still listen to their first episode from 2006.
Inside the podcast industry, these shows are known as "branded podcasts" or "branded content," to differentiate them from the "standard" shows like Serial. However, if you talk to folks creating podcasts at businesses, most of them don't call their shows "branded" unless they've had contact with the podcast industry — it's just "my podcast" or "my company's podcast." For simplicity, and because if you're reading this, you're likely to already be familiar with the term, we'll call these shows "branded podcasts" from here on out.
Chartable measured nearly 600 branded podcasts releasing their first episode in 2020, with 2021 already on pace to easily beat that number. There are now more than 8,000 branded podcast feeds publicly available, and many more that fly under the radar on company websites:
We see the rise of branded podcasts as a mega-trend that we're excited to serve.
Why branded podcasts?
Why are businesses starting so many podcasts? The answer is simple: for the same reasons that companies choose to advertise on podcasts, namely:
The podcast audience is growing. An estimated 116 million people in the US tune into a podcast on a monthly basis according to Edison Research. Every week, more and more Americans are building a habit of listening to podcasts, and integrating new shows into their routines.
Podcast audiences are uniquely engaged. In a world where it seems attention spans are getting perilously short, podcasts stand out—it's common for listeners to spend hours with a single podcast. Moreover, average engagement is much greater in audio than other media. For example, podcast content posted to YouTube tends to have lower completion rates than the same content in podcast apps, because the consumption environment and listener habits are so different.
Podcast audiences pay attention. Nobody ever listens to 2 podcasts at once (if you do, seek help). Compare that with how many tabs you have open on your browser at any one time: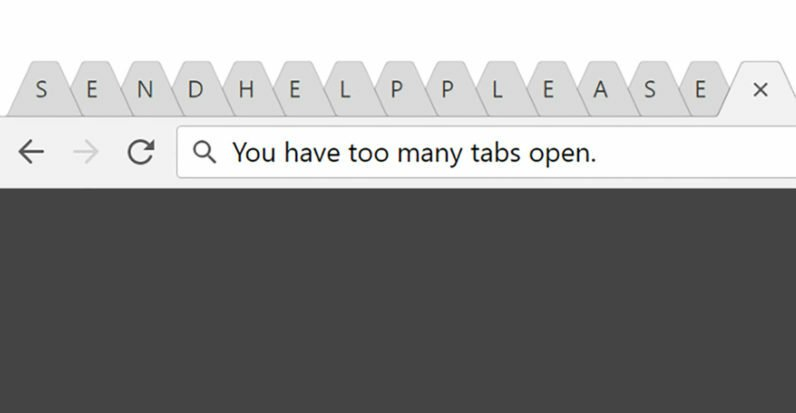 Podcasts are fully opt-in. A podcast is never an unwanted interruption; nobody accidentally listens to a podcast. Our friend Jonas Woost at Pacific Content said it well: "Our point of view is simple: why follow people on the Internet when they can follow you." Jonas has more great insights over at the Pacific Content blog.
Podcast content is reusable. From a marketer's perspective, podcasts have a high return on investment because they can be repurposed over time and across channels. A single 30-minute episode can be transcribed and posted on a company blog; highlights can be made into audiograms and inserted into a newsletter, then posted on social media out over a series of weeks.
Branded podcast challenges
When brands choose to podcast, they get to reap the benefits of the growing, engaged podcast audience and reuse their content across multiple channels. Yet branded podcasts also face the same challenges that all podcasters face — the very challenges that led us to start Chartable nearly 3 years ago. Like all podcasters, brands want to know:
Who's listening?
How did they find my show?
What do they do afterwards?
The answers to these questions look different for ad-supported podcasts vs branded shows. For ad-supported shows, "Who's listening," for example, can be answered by Chartable podcast demographics. But for branded shows, especially from B2B businesses, the household income, age range and ethnicites of listeners aren't as important.
Branded content marketers really want to know: Am I reaching my potential customers? Which channels are driving new listeners to my show? And are those listeners visiting my website, signing up for a demo or making a purchase after hearing my show?
That's where Chartable for Brands comes in.
The solution: Chartable for Brands
We've been building tools for publishers and advertisers for almost three years now, measuring billions of downloads and ad impressions per year. We're applying all the lessons we've learned serving the biggest publishers and brands in the world towards tools specifically for branded podcasts. We're calling it Chartable for Brands.
Chartable for Brands makes it make it ridiculously easy to measure, grow, and get results from your branded podcast.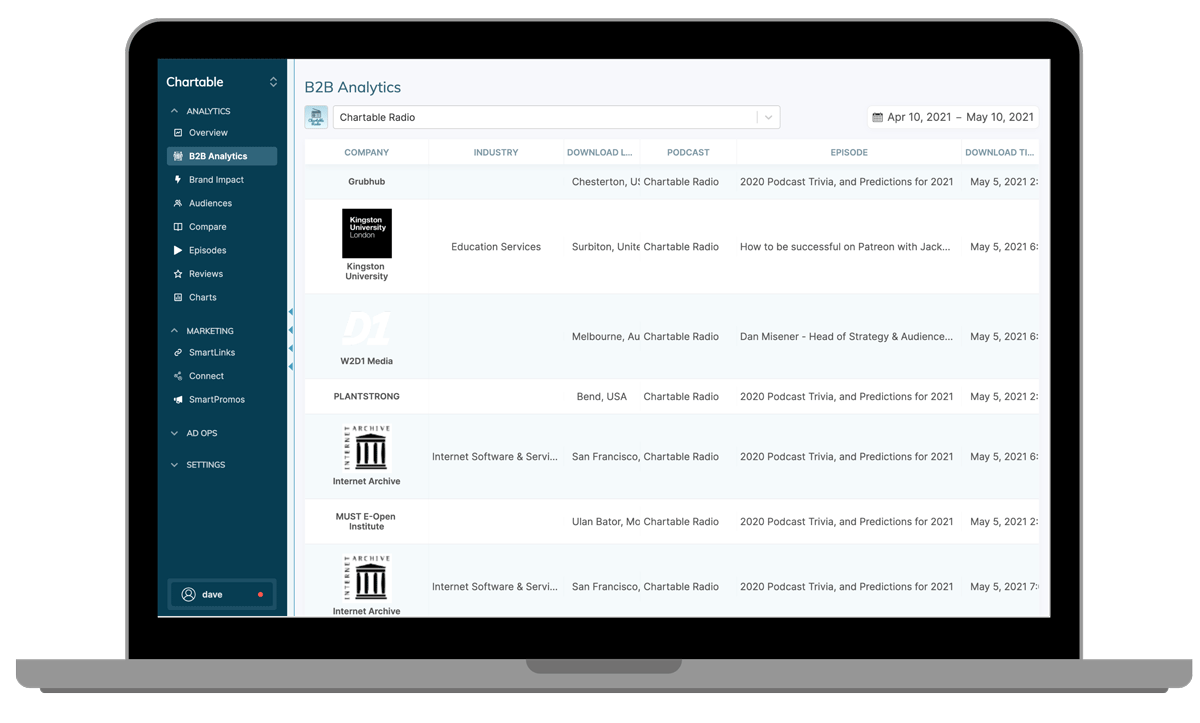 Chartable for Brands includes the first-ever firmographic data enrichment for podcasts, powered by Clearbit. In addition to the insights and marketing tools Chartable already offers, marketers can now find out exactly which companies are listening to their branded podcast—and which episodes are drawing in new listeners from new firms.
Chartable for Brands also includes all-new Brand Impact measurement, the easiest way to measure the ROI of branded content. Brand Impact connects podcast downloads to down-funnel events like website visits, app installs, and purchases.
We're pleased to have developed these new features in partnership with our friends at Pacific Content. In addition to their world-class production services for clients like Dell Technologies and Ford, Pacific Content now offers audience development services for branded podcasts, including media buying, show marketing strategies with attribution measurement, and brand-specific metrics (using Chartable of course). If you're looking for agency pros to help you grow your podcast, we can't recommend them enough.
We're excited to share Chartable for Brands with the world starting today. We can't wait to show you everything Chartable can do.