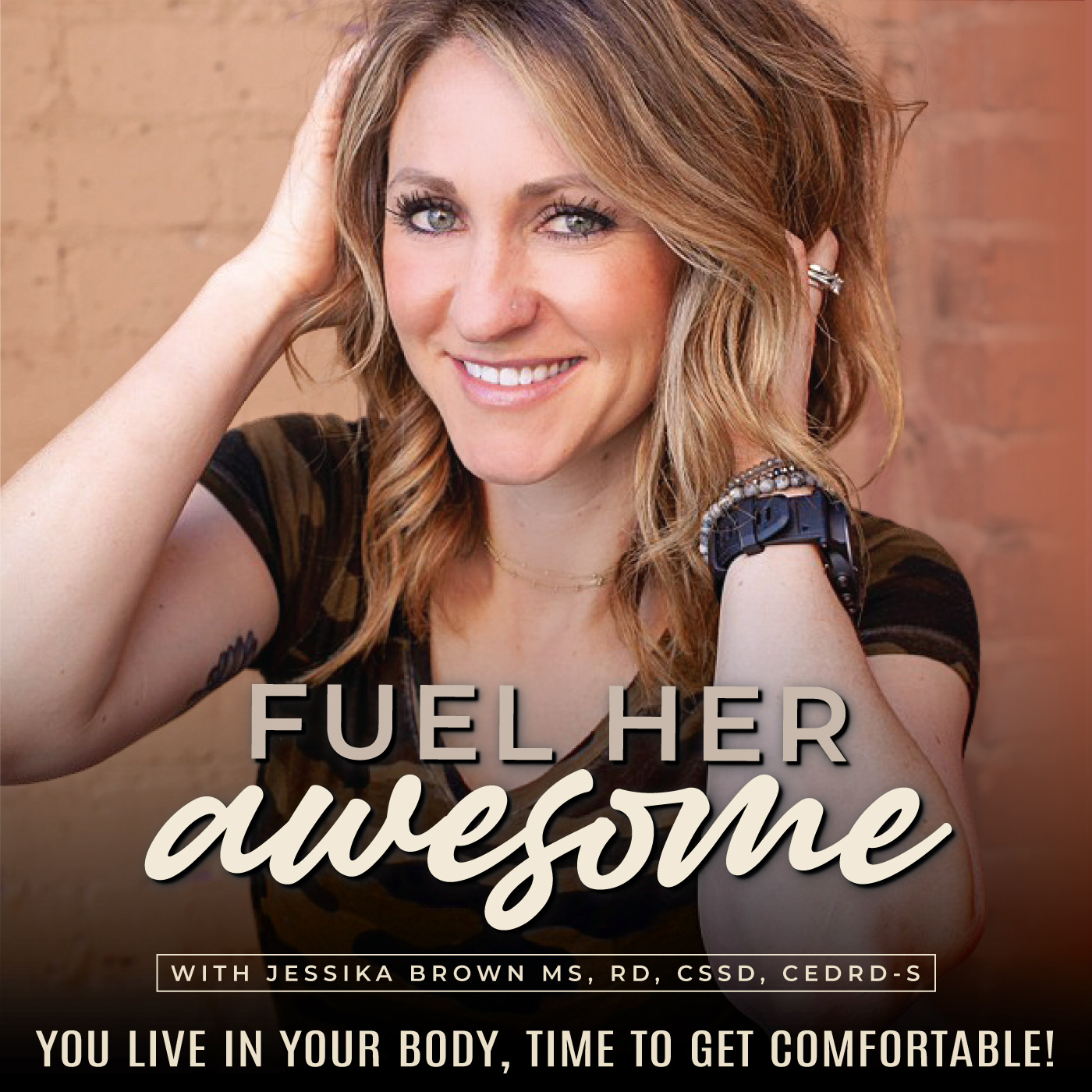 Is this your podcast?
Sign up
to track ranks and reviews from iTunes, Stitcher and more
Jessika Brown- Registered Dietitian Sports Nutritionist & Intuitive Eating Mentor
Fuel Her Awesome
Food Freedom, Body Love, Intuitive Eating & Nutrition Coaching
Welcome to the Fuel Her Awesome podcast! It's time to break up with dieting and body bullying and choose to live boldly in that bodacious body of yours! If you have had enough of your AWESOME being eclipsed by body hate and the ocean of nutrition info out there and you are ready to finally find food freedom to become the most energized, healthiest version of yourself-  girl, this podcast is for you.  Find confidence, food freedom, faith, and body empowerment through science-based nutrition, energizing foods, *with* a little wiggle room. Because a side of donuts and a little wine does the...
Ratings & Reviews
4.9 stars from 131 ratings
"
I can't say enough about Jessika as an intuitive eating coach. She's helped me IMMENSELY. From diet after diet to years of trying to lose the "illusive 10 pounds " to FREEDOMMMM! Amen. You'll love this show. Snag a session with her while you still can, too. Stefanie Gass
"
Stefanie Gass via Apple Podcasts · United States of America · 06/12/21
"
I just discovered Jess's podcast and it is chocked full of useful health and diet information. In addition, the body positivity and intuitive eating approach is refreshing. Highly recommend!
"
janespringer via Apple Podcasts · United States of America · 06/06/21
"
It's nice to hear from a HAES aligned dietitian who understands why dieting is dangerous. I appreciate how her show shares information in an easy to understand and apply manner. Great stuff!
"
plusmommy via Apple Podcasts · United States of America · 05/14/21
Recent Episodes
How many times a day do you beat yourself up in your head?  1, 2, ... 10?!?! Research shows that up to 80% of our thoughts about ourselves are negative.    ESH!!!! No wonder you are stuck and can't seem to get enough "will power" to hit those goals.    Combating negative self-talk can...
Published 06/14/21
Today we dive into one of my favorite macros: PROTEIN!   Protein is an amazing nutrient that is absolutely essential to building and maintaining muscle strength. In today's episode, I am  breakin' down protein quality, quantity and timing.   Did you know as we age, our bodies start to...
Published 06/07/21
May is Mental Health Awareness Month and I don't think there is a single one of us who hasn't been impacted, either personally or with a loved one, by mental health disorders.  The majority of my career has been spent working in the mental health field and supporting those who have struggled...
Published 05/31/21
Do you host a podcast?
Track your ranks and reviews from iTunes, Stitcher and more.
See hourly chart positions and more than 30 days of history.
Get Chartable Analytics »