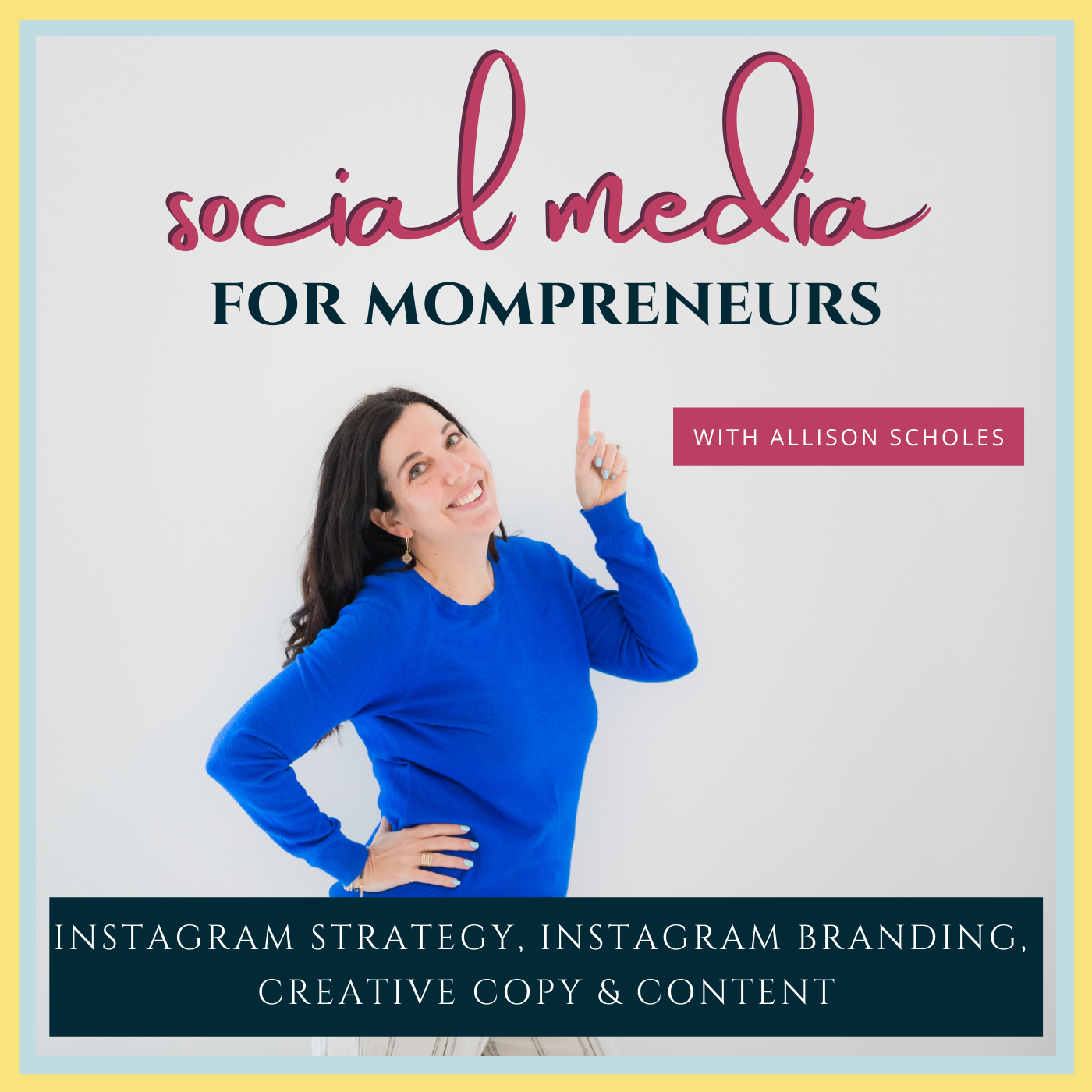 Is this your podcast?
Sign up
to track ranks and reviews from iTunes, Stitcher and more
Allison Scholes - Podcasting, Instagram Clarity, Instagram Coach, Photographer, Entrepreneurship, Social Media, Personal Branding, Visual Branding, Brand Identity, Content Creation, Content Planning
Social Media for Mompreneurs
Instagram Strategy, Instagram Branding, Creative Copy & Content
Hey. I'm Allison Scholes. My mission is to help mompreneurs scale their Instagram in an authentic, easy, simple and fun way. I believe Instagram should be exciting, not daunting! I am here to help you streamline your Instagram growth, branding, marketing, caption creation, story strategy and more. In this Podcast, you will find creative copy and content tips, hacks for hashtags, sales, audience growth, the allusive algorithm, and expert guests who will help us blow up the gram. Find exciting Instagram coaching episodes, branding strategies, copy hacks and more. It's time to streamline...
Ratings & Reviews
4.9 stars from 73 ratings
"
I love Allison's show! This mompreneur always has questions running through my mind of all the latest and greatest things to try online. I SO appreciate that every episode is quick and impactful and always answers the questions I have about reaching my ideal clients. ❤️ Kim Stewart @kimstewinspired
"
@kimstewinspired via Apple Podcasts · United States of America · 07/25/21
"
Allison is great. Her tips are always so practical and helpful. And she's fun! A great podcast - love it.
"
bluebrd3 via Apple Podcasts · United States of America · 06/10/21
"
We are loving these informative & helpful topics :)
"
Delia Folk via Apple Podcasts · United States of America · 06/06/21
Recent Episodes
Are you a mompreneur experiencing exhaustion and burnout? Sick of the "hustle-and-grind" mentality? Is your approach to business the "do-it-all" approach? Today, you will go from clueless to clear on building your foundation to business success! Christina Giordano presents her L.I.F.E. Method...
Published 07/27/21
HOLY SMOKES! July 24th marks two years of the Social Media for Mompreneurs Podcast. And what a ride! HANDS DOWN, this podcast was the best thing I did to grow my audience and business. I have YOU to thank for that! To celebrate two years of podcasting, I put together the very best remix of...
Published 07/22/21
Welcome back to another "hot seat" coaching episode! Today, I'm honored to help Ashley Siljenberg overcome her frustrations with Instagram. If you're frustrated with what to post, how often to post, and finding your ideal audience, this episode is for you. I help Ashley fine tune her...
Published 07/20/21
Do you host a podcast?
Track your ranks and reviews from iTunes, Stitcher and more.
See hourly chart positions and more than 30 days of history.
Get Chartable Analytics »